Niezależnie od tego, czy pobierasz własne filmy, czy publiczne posty innych TikTokerów (oczywiście tylko na własny użytek, a nie dla zysku, aby nie naruszać praw własności intelektualnej oryginalnego twórcy), możesz pobrać wideo z TikToka i usunąć jego znak wodny.
Aby to zrobić, najlepiej będzie, gdy skorzystaszz aplikacji innych firm i witryn pomocniczych, do których będziesz potrzebować adresu URL dla poszczególnych filmów TikTok.
W pierwszej kolejności sprawdź, czy masz pobraną najnowszą aktualizację aplikacji TikTok. Jeśli korzystasz z iPhone, możesz spróbować tego darmowego sposobu:
Skopiuj link do filmu, który chcesz pobrać.
Wejdź na tę stronę Mav Export i kliknij ikonę "Pobierz skrót".
W tym momencie zobaczysz, że otwiera się aplikacja Skróty i ląduje na niej fioletowe pudełko.
Teraz wystarczy nacisnąć białe kółko skrótu do eksportu Mav.
W tym czasie aplikacja poprosi Cię o uprawnienia dostępu do Twoich zdjęć. Po wyrażeniu zgody zobaczysz, że pobierają się wszystkie klipy, do których skopiowałeś link.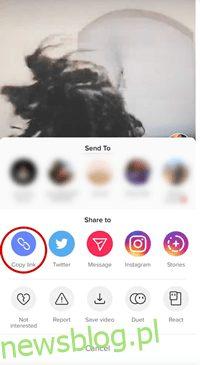 Jeśli korzystasz ze smartfona działającego w systemie Android, wystarczy, że zastosujesz te kilka kroków:
Kliknij na wybrany przez siebie film dokładnie tak, jakbyś chciał go udostępnić.
Skopiuj do niego link.
Wrzuć linka na tę stronę: snaptik.app.
Pobierz wygenerowany film.
To wszystko! Teraz możesz cieszyć się filmami, które nie mają znaku wodnego i możesz je udostępniać w innych sieciach społecznościowych.