The possibilities of the newly presented Harmony 2 system Huawei decided to demonstrate immediately on live examples.The system has already hit the first commercial products.
Huawei Watch 3 has harmonos, rotated lace and new fitness functions
The previous Huaweia watches worked under the control of simple software, which had its advantages (long working time), as well as disadvantages (cut off functionality).The full -fledged smartwatches with Wearos or Tizen systems gave way to this.Harmonoos is to connect both worlds.
Huawei Watch 3 is an autonomous device;Has LTE connectivity thanks to the built -in chip ESIM.Allows you to make and receive voice connections or stream music.
Harmonyos allows you to install additional applications directly from the smartwatch.The clock discs are now more interactive, and the interface inspired by the Watchos Apple system and stuffed with pleasant animations.It is supported by means of a physical lace, enabling scrolling and enlargement of content without having to touch the screen, and gestured wrist performed.
A fitness novelty is a built -in thermometer, detecting the temperature of the skin and the ambient.Huawei Watch 3 is to detect the risk of fever.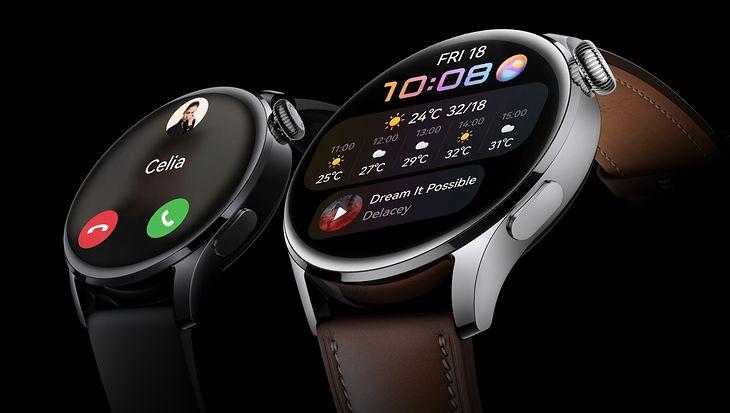 Smartwatch also detects falls (with the option of automatic connection with emergency numbers) and hand washing, measuring the suggested 20 seconds.
There is also sleep monitoring and 100 sports modes, including 19 professional disciplines, 12 outdoor activities and 7 indoor training.
Huawei Watch 3 MA:
Battery?Huawei declares 3 days of work in Smart mode and 14 days in low energy consumption mode.The latter is to provide access to functions monitoring activity and functionality at the level of previous Huaweia watches.
Huawei Watch 3 Pro ma lepszą jakość wykonania i większą baterię
Variant Pro brings:
The rest of the equipment and functions are the same.
Huawei matepad pro 12.6 has harmonos, OLED screen, new stylus and wireless charging
The first tablet with the Harmonoos system has up to a 12.6-inch screen with a high quality OLED matrix.It is complemented by as many as 8 built -in speakers.
The screen can be operated using the M-Pencil 2 stylus.This has a transparent tip, platinum -covered elements, a hexagonal shape and detects 4096 degrees of pressure.Has a very low delay of 9 ms.
Matepada Pro 12 specification.6 includes:
The Huaweia tablet is also compatible with the optional, physical QWERTY keyboard.
A smaller variant with a 10.8-inch screen will also go on sale.
There are new Huawei FreeBuds 4 headphones
New is a more advanced noise reduction system.It is based on a system of double microphones and Adaptive Ear-Matching technology that will adapt algorithms to the shape of the ear.
Huawei also boasts a reduction in sound distortion, stronger bass and higher convenience of use.The shape of the Freebuds 4 was to be designed based on anatomical data over 10,000 pairs of ears.
Headphones can be connected to 2 devices at the same time (e.g..telephone and computer).Working time?Huawei declares:
Details on availability in Poland are to be revealed soon.
Also check: