When you bought a 16 or 32 GB of memory, did you seem to be a permitting amount?Over time, you probably regretted the decision to buy a cheaper model.After all, the App Store is full of great applications, and the life of opportunities to take pictures.Unfortunately, the phone's memory is not made of rubber.If you see messages about the lack of free memory often, read how to quickly recover a somewhat valuable space.
Delete and install social applications again
One of the simplest and most effective ways to regain space in the memory of your gadget is the re -installation of social applications.They are mainly responsible for the instant clogging of memory on your phone.Instagram, Facebook or Tumblr save hundreds of photos in the cache that you will not return to watching.Unfortunately, the only certain method to get rid of these unnecessary data is to re -installation of the application.
Aby sprawdzić ile miejsca zajmują aplikacje:
Uruchom aplikację Ustawienia i wybierz Ogólne
Wybierz opcję iPhone (pamięć) i przewiń ekran w górę i dokładnie przejrzyj listę aplikacji. Przy każdej z nich znajdziesz informację ile miejsca w pamięci zajmuje.
Skasuj wybrane aplikacje:
Uruchom aplikację Ustawienia i wybierz Ogólne
Wybierz opcję iPhone (pamięć) i kliknij w aplikację, którą chcesz skasować. Następnie wybierz Usuń aplikację, bo tylko ta opcja spowoduje usunięcie aplikacji razem z jej danymi. Jeśli wybierzesz opcję Odinstaluj aplikację, cache i dane pozostaną w pamięci telefonu i całe operacja nie będzie miała sensu.
Uruchom App Store i ponownie zainstaluj usuniętą aplikację.
Delete the attachments from the message
Years of using SMSs have accustomed us that the visibility does not take up much space.Also, definitely less popular MMS did not clog the memory in our phones.However, in the era of messengers such as iMessage or WhatsApp, the space occupied by messages can reach hundreds of megabytes, thanks to attachments.We forget about the photos received or funny videos immediately after watching them, and they unnecessarily occupy the phone's memory.
Removing attachments from iMessage
Aby zobaczyć i usunąć załączniki z wiadomości iMessage:
Uruchom aplikację Wiadomości i kliknij z rozmowę, z której załącznik chcesz usunąć.
Kliknij w nazwę rozmówcy widoczną u góry ekranu, następnie wybierz opcję Informacje
Przewiń ekran do sekcji Pictures i wybierz opcję Pokaż wszystkiepictures.
Kliknij przycisk Wybierz widoczny w prawej górnej części ekranu. Następnie wybierzpictures które chcesz usunąć i kliknij przycisk Usuń widoczny w prawym dolnym rogu ekranu.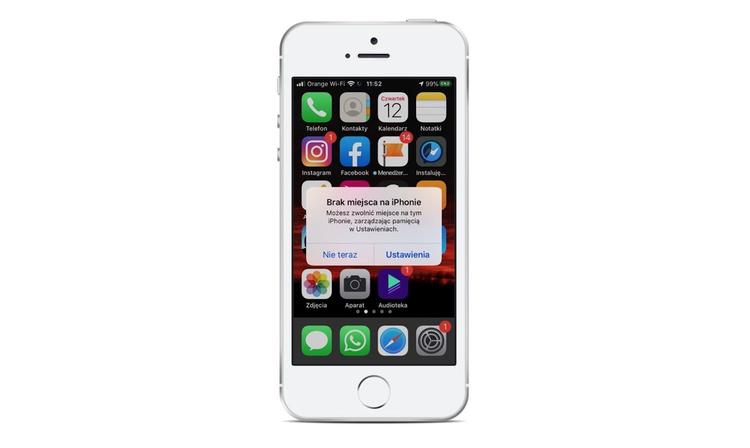 Unfortunately, there is no "select everything" option, so you have to select photos one by hand.
If you want to maintain more control over the memory occupied by messages, it would be a good idea to include automatic removal of old messages.The iOS system allows you to automatically delete messages older than 30 days or a year.
Aby aplikacja iMessage automatycznie usuwała wiadomości:
Uruchom aplikację Ustawienia i wybierz Wiadomości.
Przewiń ekran do sekcji Historia wiadomości i wybierz opcję Przechowuj wiadomości
Wybierz okres przechowywania wiadomości.
If you care about keeping the message, you can save it on your computer's hard disk.Instructions on how to make a copy of the iMessage message on your computer can be found here.
Removing attachments from WhatsApp
The WhatsApp application is definitely more flexible, which allows you to quickly remove selected types of attachments from a specific chat.Thanks to this, you can delete movies or voice messages, leaving e.g..pictures.
Aby usunąć załączniki z aplikacji WhatsApp:
Uruchom aplikację WhatsApp i kliknij ikonkę ustawienia widoczną w prawym dolnym rogu ekranu.
Wybierz Użycie danych i pamięci, następnie Użycie pamięci.
Wybierz czat z konkretną osobą, następnie przewiń ekran do góry i kliknij Zarządzaj
Zaznacz rodzaje załączników które chcesz usunąć i kliknij Wyczyść.
Podcasts and audiobooks
We download more and more things on the phones, which we often forget about.The best example of this is podcasts and audiobooks.Few people want to delete it immediately after hearing.And then we just forget about them and in this way our phone's memory is clogged with unnecessary audio files.
Podcs
If you use a native application for listening to podcasts, automatic removal of listened episodes is fabulously simple.
Aby aplikacja Podcs automatycznie usuwała odsłuchane podcasty:
Uruchom aplikację Ustawienia i wybierz Podcs.
Przewiń ekran do sekcji Pobrane podcasty i przy opcji Usuwaj odtworzone przesuń suwak w prawo.
Audiobooks
Virtually every application for playing audiobooks is governed.Below you will find instructions for deleting books in the popular Audioteka application.If you use another application, reach for its user manual.
Aby skasować audiobooki z aplikacji Audioteka:
Uruchom aplikację Audioteka i przejdź do karty Twoje
Kliknij ikonkę ustawienia widoczną w lewym górnym rogu ekranu.
Przewiń ekran do sekcji Pobieranie i kliknij w Pobrane
Wyświetli się lista książek zapisanych w pamięci telefonu, kliknij Usuń przy książkach, które chcesz skasować.
navigation
Offline road maps are a great thing.They can be downloaded at home and during a foreign trip not to worry about the costs of roaming data transmission.Did you use navigation on your phone during a holiday trip?Did you delete unnecessary maps after returning?Most people simply forget about it and the phone's memory unnecessarily occupy maps of countries on which they do not ride on a daily basis.
As in the case of audiobooks, each application-navigation has its own rights in the field of data deletion.How to remove unnecessary maps from the popular TomTom application you will find the instructions below.If you use a different navigation, reach for its user manual.
Aby skasować mapy w aplikacji TomTom Go:
Uruchom aplikację TomTom Go i wejdź w menu.
Następnie wybierz Mapy. Wyświetli się lista mapy pobranych na Twój telefon.
Kliknij przycisk Usuń widoczny u dołu ekranu.
Przy każdej mapie pojawi się ikonka kosza na śmieci. Kliknij ją przy tych mapach, które chcesz skasować. Na koniec kliknij na przycisk Gotowe.
Pictures
Przy obecnej wielkości matrycpictures robione iPhonem zajmują bardzo dużo miejsca.What iCloud from Apple allows you to store the original photos, leave only miniatures in the phone's memory.Unfortunately, such optimization can work quite capricious and some files may not be replaced by miniatures.However, there is a way to fix "optimization" errors.
First, take a copy of photos on your computer.
Jeśli używasz macOS:
Uruchom aplikację Pictures, następnie z menu wybierz Pictures > Preferencje.
Kliknij na ikonę iCould i zaznacz ustawienie Pobierz oryginały na ten komputer.
Poczekaj ażpictures z chmury zostaną skopiowane na dysk Twojego komputer. Postęp tego procesu będzie widoczny u dołu ekranu.
Jeśli używasz Windows:
Zaloguj się do iCoud.com przy użyciu przeglądarki internetowej
Przejdź do folderu Pictures, następnie zaznaczpictures i kliknij Pobierz.
Gdy masz już pewność, że Twojapictures są bezpieczne, przystąp do własnoręcznej optymalizacji.
Na iPhone uruchom aplikację Ustawienia i kliknij w opcję Pictures.
Wyłącz ustawienie Pictures iCloud.
Wybierz opcję Usuń oryginały i poczekaj aż wszystkiepictures znikną z Twojego telefonu. W zależności od ilości zdjęć proces ten może potrwać od kilku do kilkunastu minut.
Po skasowaniu zdjęć uruchom ponownie iPhone'a. Uruchom aplikację Ustawienia i kliknij w opcję Pictures.
Włącz ustawienie Pictures iCloud.
Poczekaj aż załadują się miniaturki zdjęć przechowywanych w chmurze.
5 simple ways to regain space in the memory of the iPhone